Please be aware that the older versions of Microsoft Edge and Internet Explorer are not compatible with this site. Please use the latest versions of Edge Chromium, Google Chrome, Firefox or Safari to ensure that results are calculated correctly and certificates are issued.

New users please Create Account or existing users please Login
watertraining.com.au is a site managed by the Queensland Water Directorate (qldwater), the key advisory and advocacy body within Queensland's urban water and sewerage services industry. qldwater and the Water Skills Partnership represent members from local government and other water service providers across Queensland.
This site hosts online training courses developed by our industry for our industry and the contractors which service it. The current focus is on working safely on or around water and sewerage infrastructure. Over time, more topics will be added along with versions of courses developed with our other Australian partners. The Aqua and Brown Card courses have options for NSW and SA. While the courses are largely consistent, there are slight variations to reflect the laws and regulations governing each states. Please ensure you select the correct course based on the location where you work.
Aqua Card provides a simple overview of what contaminants are, the risks they pose, how they enter a drinking water system and the responsibilities of those working on drinking water infrastructure to reduce that risk. It includes practical guidance on how to operate within work sites including good housekeeping and disinfection practices.
Brown Card provides an overview of the importance of, and requirements for, maintaining public health, minimising environmental harm and general workplace health and safety when working in, on or near sewerage and recycled water assets. It includes topics like regulations and standards, risks and safety, managing health risks and specific types of work tasks.
For those new to the water industry, the Introduction to the Urban Water and Sewerage Industry in Queensland provides an overview of the natural and urban water cycle, the water supply systems, current and emerging issues as well as career options in the industry. The course is free and can be accessed from the link below.
qldwater also hosts regular Fundamentals Webinars which provide practical demonstrations of the most common water and wastewater treatment and network operations tasks, presented by industry experts. Fundamentals webinars are held monthly, with details of future topics and speakers available on the qldwater Events page. Recordings of all past Fundamentals Webinars are available for viewing by employees of qldwater members and Water Skills Partners at no cost. If you are not from one of these organisations and are interested in the recordings, please contact skills@qldwater.com.au.
Queensland Courses
The price for each participant for each course is $50 (including GST). qldwater and Water Skills Partnership members can access the course free of charge for internal use - please email skills@qldwater.com.au to access the log in details.

NSW Courses
The NSW versions of the Aqua Card and Brown Card courses have been produced with the help of the NSW Water Directorate, and include references to NSW legislation, industry standards and guidelines. NSW Water Directorate members can access the course at no cost - please contact skills@qldwater.com.au to access the enrolment key. Contractors will be charged $50 per course paid online upon registration.
SA Courses
The South Australian version of the Brown Card was produced in partnership with the SA Government and include references to SA legislation, industry standards and guidelines. The course is free for SA water entities and their approved contractors.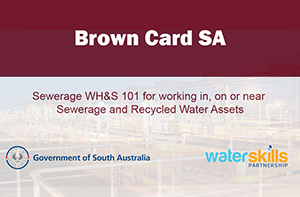 Participating Organisations
The following organisations currently participate in the program.
Some organisations will mandate the completion of a course for contractors prior to commencing work on or around water and sewerage infrastructure, while it is recommended by others. Contractors should check the policy of these organisations prior to completing the course.